A yard with bumps and lumps isn't only unattractive but also a possible safety hazard with a large opportunity to cause falls, sprinkled ankles, and trips. Many events can cause an uneven yard, like drainage problems and lawn pests distracting the root structure of turf, but none of these needs to hinder your landscaping effort altogether. Improper leveling can lead to your home's basement and foundation issues. Before you begin working to level your lawn's surface, fix the underlying issue, so it does not arise in the future. Here are some steps to create a safe foundation for your lawn with lawn leveling: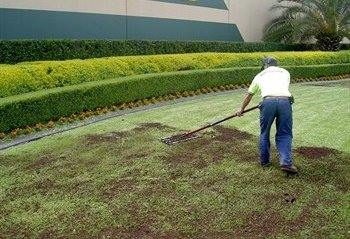 Determine the Leveling Plan
Mow your lawn, then examine the entire yard for ridges, depressions, and raised areas. Mark the square feet of these areas with string and stakes.
Dig Up and Fill up The Low Spots
Dig up any divots with a depth of more than two or three inches. Put the blade on the edge of the low spot and push it deep enough to reach the grassroots. Then remove the sod by prying up the grass up with a shovel and exposing the dirt underneath.
Make a soil mix of two parts topsoil, two parts sand, and one-part compost in a wheelbarrow, and then mix the blend evenly. If you do not have any at hand, make compost with easily available organic matter.
Distribute a thin layer of soil mixture over your entire lawn. Watch for areas that hide air pockets, look unsettled, and redistribute some part of the soil mix with a push broom or landing rake.
Run sprinklers to water your lawn. This will help the soil mixture to settle in the grass to revitalize your lawn and fill air pockets. You are jumpstarting the introduction of new nutrients from the soil mixture.
End-Note
Leveling your yard is important to protect your landscape and home from prolonged damage as well as expensive costs to fix. Ground leveling can bring curb appeal and fun back to your lawn and prevent water damage and waste to your home.
Are you ready to take the plunge to creating a safe foundation in your lawn? Contact us today at Accurate Lawn Leveling for professional lawn leveling services. We are keen on providing your home with a beautiful lawn.