Have you been on the fence about implementing a French Drain System to your property? Let us ease your mind, there are plenty of benefits from doing this. Some of them unexpected.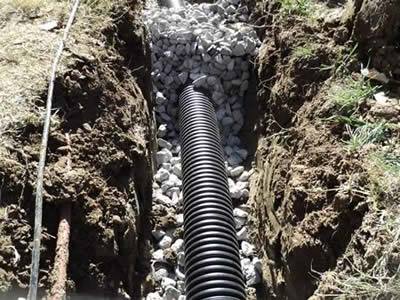 THEY'RE DURABLE
We're sure one of your biggest pet peeves is making an adjustment to your yard, and having it break. Not only is it incredibly frustrating, it causes more problems. Thankfully, French Drains don't break very easily. Due to them not having many moving parts, there is a smaller chance of them malfunctioning. Their longevity will increase especially if you have a professional, such as ourselves, install them. Getting a French Drain is an investment that will last well into the future.
PREVENTS FLOODING
This is perhaps the most significant advantage. The fundamental function of a French Drain is to redirect water flow. Implementing one into your yard and property will prevent water build-up in unwanted areas. The drains are best placed near driveways and elevated surfaces, in order to keep water flowing off/down the elevation. French Drains keep unwanted moisture in certain areas as well as prevent an unwanted mess in the future.
GOOD FOR THE ENVIRONMENT
Using the right tools and materials, the implementation of these drains would not only benefit the livelihood of your yard but the entirety of the environment. Being eco-friendly is more important than any other aspect of yard work, French Drains are a perfect way to be just that.
INCREASES PROPERTY VALUE
This is a bit of an indirect benefit, however, it is undeniable to say the least. Having a French Drain puts your property a little ahead of other properties who don't have one. Increasing your property value is always beneficial, and having a French Drain is an easy way to do such.
If your interested in adding a French Drain System to your property or have any other yard care questions make sure to contact us! We are dedicated to making sure your yard is the yard of your dreams!